---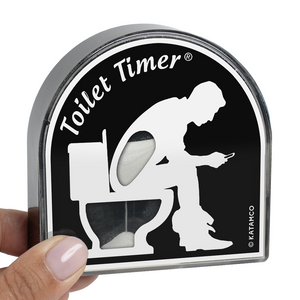 Toilet Timer by Katamco (Classic), Funny Gift for Men, Husband, Dad, Fathers Day Gag
---
As seen on ABC's "Shark Tank" and born on 🌈 Kickstarter, this explosively funny gag gift  is a unique and fun ⏳ 5-minute sand timer for your favorite 💩 stinker. No more 40 minute poop breaks, guys.

Help your loved one get back to the people they are trying to avoid.
---
Our timer runs for about 5 minutes. Want to sit for 10 minutes?
---
About the creator
Adam Stephey has been creating since he was just a wee lad. After moving back to the Midwest from Germany, he learned how to build furniture and taught himself 3D drafting. As a guilty poo-crastinator himself, Adam launched the Toilet Timer on Kickstarter.

He also has his own line of cleaning products for retro video games and systems (1UPcard.com).
What's next? Sign up for our newsletter and find out!