Katamco Blog
Posted by Adam Stephey on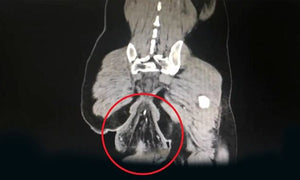 THE RISKS OF TOO MUCH TOILET TIME Did you know that spending too much time in the bathroom can have more dangerous effects than irritating your roommate or spouse? The shape a toilet seat causes a lot of pressure to the be put on the lower rectum[1]. If you're spending more than a few minutes to do your business, you could be at risk for hemorrhoids, anal fissures, and, in extreme cases, anal prolapse. Let's ease into this. ANAL PROLAPSE This is the least common but most serious injury that could incur from spending too much time on the toilet....
Posted by Adam Stephey on

Our beloved gift for poo-crastinators had a great Christmas season. Stockings were stuffed, White Elephant Parties were provided for, and laughs were had around Christmas trees. We were honored to have earned a badge from Amazon. We were "Amazon's Choice for funny stocking stuffers for men." Do you need a gift for Christmas, a White Elephant party, Father's day, or a funny birthday gift? Take a look at our complete offering of gifts.
---